Please visit our Facebook page for up-to-date
cancellation/delay announcements!
2023 Festival is Wed, July 12 through Mon, July 17!
The Kindleberger Summer Festival of the Performing Arts started four decades ago and is a highlight of the Parchment summer that draws together neighbors, friends, family, and visitors. Join us for food, music, tradition, and activities that make the Festival such a vibrant celebration of community!
Download the schedule for the Festival and the Summer Concert Series:
Free Community Theatre
Announcing the Family Musical
GREASE
Announcing the Youth Theatre Show
The Very UnMerry Adventures of
Robin Hood
Free Concert Series
Bring a lawn chair or blanket and
the whole family to Kindleberger Park
for the live concerts throughout
the summer. Enjoy these amazing
performances for FREE!
So many activities for everyone to enjoy!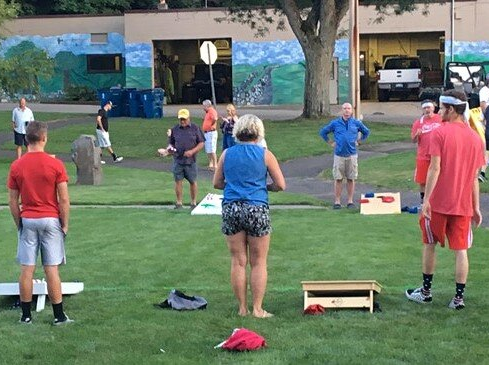 Cornhole Tournament
Sun, July 16, 11 am
Both Backyard Social and Professional Cornhole Tournaments return to Kindleberger Park! Bringing our local amateur and pro players together, tossing in two separate tournaments for another Festival Cornhole competition, bigger, better, with cash prizes to win!
Plant Sale & Book Sale
Sat, July 15, 9am – 3pm
Book Sale Shoppers will find the best prices in town – you can always find a fabulous bargain and a favorite read!
The Parchment Garden Club Plant Sale is a perennial event of Festival Day! Plants dug from local gardens are offered at bargain prices for both the green thumb and novice gardener.