Festival Day, Saturday, July 15
Parchment Garden Club Plant Sale
Lower Kindleberger Park, 9am – 3pm
"The Parchment Garden Club has been in existence since 1944, and we've had a booth for our Plant Sale at the Kindleberger Festival for the Performing Arts since 1997. If you want perennial plants for your yard and landscaping projects, this is the place to be. We have lots to choose from, with members available to answer all of your gardening questions. Feel free to stop by and take a look. You'll find the pricing very reasonable. See you there!"
Judy Resler, Past President
The Garden Club Plant Sale is a delightfully good-natured part of the Festival Day tradition! Many plants dug from local gardens are offered at bargain prices for both the green thumb and novice gardener. Landscape your yard economically with perennials that are suitable for a wide range of growing climates, require low maintenance, and have multiple-season interest! Garden Club members will help you select plants for your personal garden needs and offer expert advice. Whether your garden is sunny or shady, wet or dry, there will be great plants for you. "Our goal is to help you make your garden a more beautiful and environmentally friendly place". Sale proceeds are used to support the many community projects that help beautify the City of Parchment!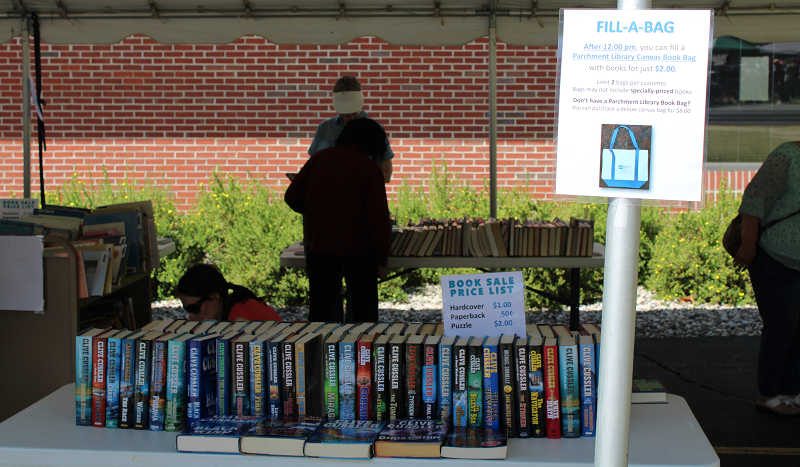 Friends of the Library Book Sale
401 S. Riverview Drive
The Friends of the Parchment Community Library will host a Book Sale on Saturday, July 15, 9 am to 2 pm outside during the Kindleberger Festival. Book lovers will find the outdoor Book Sale behind the library on Maple St. Browse at your leisure for gently used books — fiction and nonfiction, paperback, and hardcover in all genres. Children's books and puzzles can also be found at the Festival Day event, all for reasonable prices!
1:00pm-2:00pm: Fill a white library tote bag with books for just $2!! (One time per sale, limit of 12 children's books as part of your filled bag; books must all be contained within the bag.)
Don't have a white library tote bag yet? Buy one at the sale for $8 and fill it for free between 1:00 and 2:00!
We have the best prices in town – hardcovers just $1; paperbacks and children's books just 50 cents. New or extra-special books may cost a bit more, but you can always find a fabulous bargain!
All proceeds go to the Friends of the Library, who support our library programs.